Duke Facts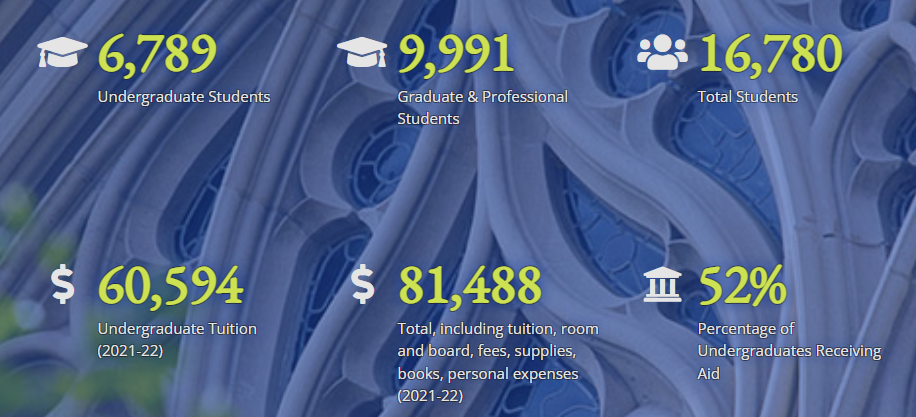 Duke Undergrads' Top Five
Majors
(All Undergraduates, Fall 2021)
Computer Science
Public Policy
Biology
Economics
Psychology
Home States
(All Undergraduates, Fall 2021)
North Carolina
California
New York
Florida
New Jersey
Home Countries
(International Undergraduates, Fall 2021)
China
India
Korea
United Kingdom
Canada
History
Duke University was created in 1924 by James Buchanan Duke as a memorial to his father, Washington Duke. The Dukes, a Durham family that built a worldwide financial empire in the manufacture of tobacco products and developed electricity production in the Carolinas, long had been interested in Trinity College. Trinity traced its roots to 1838 in nearby Randolph County when local Methodist and Quaker communities opened Union Institute. The school, then named Trinity College, moved to Durham in 1892, where Benjamin Newton Duke served as a primary benefactor and link with the Duke family until his death in 1929. In December 1924, the provisions of indenture by Benjamin's brother, James B. Duke, created the family philanthropic foundation, The Duke Endowment, which provided for the expansion of Trinity College into Duke University.
As a result of the Duke gift, Trinity underwent both physical and academic expansion. The original Durham campus became known as East Campus when it was rebuilt in stately Georgian architecture. West Campus, Gothic in style and dominated by the soaring 210-foot tower of Duke Chapel, opened in 1930. East Campus served as home of the Woman's College of Duke University until 1972, when the men's and women's undergraduate colleges merged. Both men and women undergraduates now enroll in either the Trinity College of Arts & Sciences or the Pratt School of Engineering. In 1995, East Campus became the home for all first-year students.
Duke maintains a historic affiliation with the United Methodist Church.
Mission Statement
Approved by the Duke University Board of Trustees October 1, 1994, and revised February 23, 2001, the Mission Statement for Duke University reads as follows:
"James B. Duke's founding Indenture of Duke University directed the members of the University to 'provide real leadership in the educational world' by choosing individuals of 'outstanding character, ability, and vision' to serve as its officers, trustees and faculty; by carefully selecting students of 'character, determination and application;' and by pursuing those areas of teaching and scholarship that would 'most help to develop our resources, increase our wisdom, and promote human happiness.'
"To these ends, the mission of Duke University is to provide a superior liberal education to undergraduate students, attending not only to their intellectual growth but also to their development as adults committed to high ethical standards and full participation as leaders in their communities; to prepare future members of the learned professions for lives of skilled and ethical service by providing excellent graduate and professional education; to advance the frontiers of knowledge and contribute boldly to the international community of scholarship; to promote an intellectual environment built on a commitment to free and open inquiry; to help those who suffer, cure disease, and promote health, through sophisticated medical research and thoughtful patient care; to provide wide ranging educational opportunities, on and beyond our campuses, for traditional students, active professionals and life-long learners using the power of information technologies; and to promote a deep appreciation for the range of human difference and potential, a sense of the obligations and rewards of citizenship, and a commitment to learning, freedom and truth.
"By pursuing these objectives with vision and integrity, Duke University seeks to engage the mind, elevate the spirit, and stimulate the best effort of all who are associated with the University; to contribute in diverse ways to the local community, the state, the nation and the world; and to attain and maintain a place of real leadership in all that we do."
Location of Duke University