Welcome to the
Heidelberg University Association
Sending our sincere condolences and standing together with our Heidelberg University community, today and always.
Heidelberg University is one of the top-ranked institutions in the world of international science and scholarship. In 2021, Heidelberg University was ranked #3 among German universities by the international Academic ranking of World Universities (Shanghai Ranking).

Throughout its history of over six centuries of higher education and innovative research, Germany's oldest university has become an international symbol of outstanding academic excellence. Recently, Heidelberg University achieved top-level status in Germany's Excellence Initiative competition. As one of the eleven universities chosen by a jury of international experts, Heidelberg University has been awarded additional funding to further advance its outstanding research programs.
Ruprecht-Karls-Universität Heidelberg is proud to welcome international students from 130 countries. It is one of the most popular German universities among foreign students. About 20 percent of graduates and undergraduates and some 35 percent of the doctoral students come from abroad. In recent years, the university appointed a third of its professors from outside Germany.
Heidelberg University enjoys strong and long standing ties with the United States. The first U.S. student enrolled in Heidelberg in 1793 from St. Louis. Its longest running student exchange program with the U.S., the American Junior Year at Heidelberg University, celebrated its 60th anniversary in 2018.
Research on both sides of the Atlantic has enjoyed advances from a wide variety of collaborative efforts and partnerships between scientists from Heidelberg University and its counterparts in the U.S. and Canada.
Heidelberg University's U.S. presence, the Heidelberg University Association, supports the University's strong transatlantic academic co-operative endeavors, and student and faculty exchanges, as well as the close ties between Heidelberg and its Alumni in North America.  Heidelberg University Association is a 501(c)3 non-profit organization based in New York City.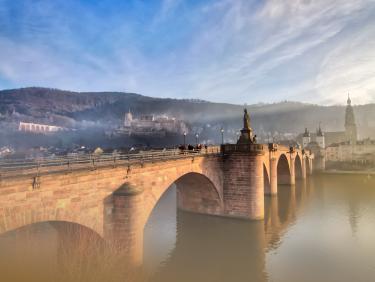 UNIVERSITY
Founded in 1386, Ruperto Carola is the oldest university in today's Germany and one of Europe's leading research institutions. Its success across all funding rounds of the Excellence Competition and international rankings underscore its leadership role and excellent reputation in the academic, scientific and research landscape.
RESEARCH
Heidelberg University defines itself as an internationally networked research university dedicated to research-oriented teaching. It believes it has a duty to help address the issues facing humanity by crossing the divide between disciplines.
STUDY
Courses of study at Heidelberg University are informed by its strong research focus and are designed to accustom students to independent research practices early on. With over 160 fields of study, it offers the broad spectrum of subjects representative of a comprehensive university as well as abundant opportunities to acquire a singular and internationally competitive qualification profile.
Location of Ruprecht Karls University of Heidelberg